THIS 90 YEAR OLD GRANDMA WANTS TO HOST GOOGLE CEO, SUNDAR PICHAI, AT HER FARM STAY.
Lakshmi Paati, the 90 year old grandmother, along with her 71 year old daughter, Kasthuri, run a small, cozy farmstay. They are first time entrepreneurs and this is their very first business they have started. They have always been house wives living under the shadow of their husbands. This is the first time they are earning money on their own.
Their initiative is called Vaksana Farm Stay which has two farm cottages with a third one on its way. It is situated in the middle of their 13 acre organic, permaculture farm in rural Tamilnadu. Their village is about 2.5 hours drive from Chennai.
Thanks to their warm hospitality and their authentic village vegetarian cuisine, Vaksana Farm Stay is highly rated on review sites.
Lakshmi Paati (Paati means grandmother in Tamil) is deeply fascinated by Sundar Pichai, the Google CEO. Even though she is technologically challenged, she is smitten by Sundar's rise to global tech stardom from a humble childhood in erstwhile Madras. She reads a lot about him and watched all his interviews on YouTube.
Lakshmi Paati has a bucket-list. On top of it is to one day host Sundar Pichai at her farm stay and cook for him her now famous recipe with her own hands. Her signature dishes are Urunda Kuzhambu, and Vatha Kozhambu which are finger-licking delicious. Guests rave about the taste and she wants Sundar Pichai to taste her food. She wants to cook and serve him her favourite dishes.
Seeing this wish come true will absolutely bring joy to this genial old lady.
When young guests at the farmstay come to seek her blessings, she always blesses them with the words, "May you become as successful as Sundar Pichai". The guests are always pleasantly surprised by the deep knowledge this 90 year old village Paati has about the Google CEO.
You can help make Lakshmi Paati's wish come true by sharing this story on your social network. This small gesture will mean a lot to this energetic, ever-smiling, nonagenarian.
HOST
Smt.Lakshmi Ammal
Smt.Lakshmi Ammal is the matriarch of Vaksana Farms. She is 89 years old and very active. She is the wife of Late Shri.Rangabashyam, a highly respected and well known leader in the village. Smt.Lakshmi Ammal is a very caring, god-loving person. She loves meeting guests and is especially fond of children. She is a gifted cook and ably assists her daughter, Smt.Kasthuri Ammal, in the kitchen. She loves playing Dhayam and Paramapatham, traditional village board games.
At 89 & 71, Amazing Grandmas Run a Gorgeous, Successful Farm Stay With Fresh Food
An enchanting farm stay in Tamil Nadu called Pico is run by two senior citizens — Laxmi and Kasthuri. With organic farm fresh vegetables, they also offer modern amenities like WiFi.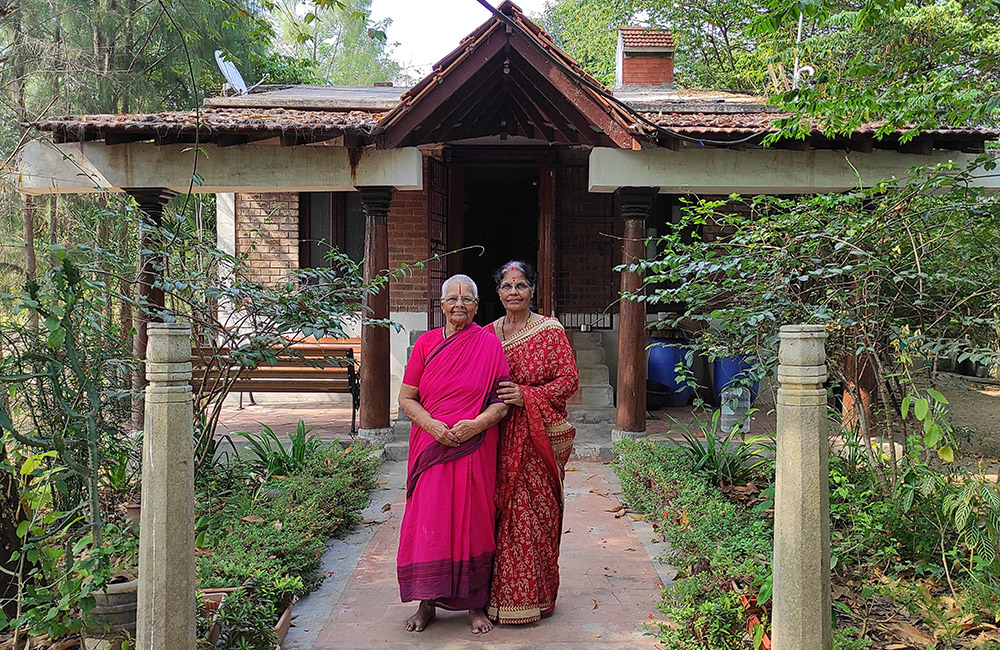 For several years, Laxmi Ammal and Kasthuri Sivaraman (a mother-daughter duo) lacked the confidence of being independent. Both of them grew up in conservative households where they did everything their parents told them to do.
There, women were not encouraged to think independently and to a certain extent discouraged from expressing their opinions. Moreover, while Laxmi (89) studied only till Class 3, Kasthuri (71) completed Class 7 in a Tamil-medium school. After marriage, they followed their husbands' orders.
It can be daunting for some to make decisions and take action when they are habituated to getting directions from others.