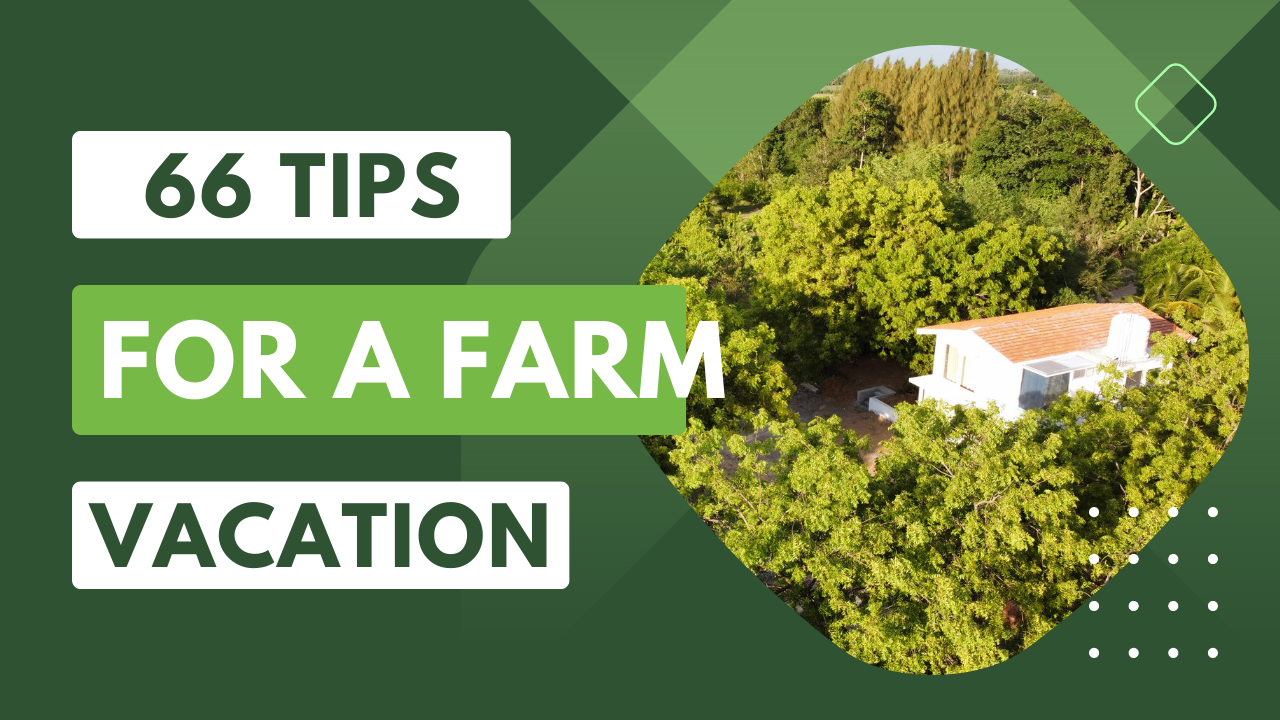 Thinking of having a very different vacation? Staying at a permaculture, organic farm is an excellent idea for a fulfilling rustic, rural holiday experience. Here are tips that will be very handy for you.
Research and choose a farm stay with good reviews and ratings on Google.
Pick a farm which is run by a family. Not a corporate-run entity. Vaksana Farms is run by two elderly ladies: 90-year-old Lakshmi Paati and her 72-year-old daughter, Kasthuri Amma.
Pack appropriate clothing for outdoor activities on the farm, such as light-coloured clothes, loose-fitting dresses and caps.
Check if the farm offers accommodations on-site. Vaksana Farms has three lovely farmhouses within the 13-acre farm.
Make sure you get the full details about the farm. At Vaksana, we have created a detailed FAQ (Frequently Asked Questions) where we have proactively answered over 50 questions at www.VaksanaFarms.in/faq
If you are travelling with children, look for a farm that offers family-friendly and kid-friendly activities.
Most farm stays are located in remote villages, and electricity connection can be erratic. Make sure the farm stay has good Inverter power backup.
Talk to the farm owners to understand what daily farm life entails and how you can participate.
Be prepared to wake up early, as farm activities often start in the morning.
Take the time to learn about the history and culture of the farm.
Embrace the farm lifestyle and be open to trying new experiences and activities. That's where the real fun lies.
Respect the farm rules and regulations to ensure the safety of yourself and others.
Take advantage of the opportunity to learn about sustainable farming practices and how good, clean food is grown.
Support the local economy by purchasing farm products, such as fresh fruits, vegetables and grains.
there are bound to be insects and bugs at any farm. We encourage to bring mosquito repellent sprays.
Take plenty of photos to capture the memories of your farm vacation. And tag the farm's Instagram or Facebook when you post.
Disconnect from technology and enjoy the peacefulness of the farm environment.
Bring board games to play with your family. When visiting Vaksana Farms, you don't have to because we have lots of board games, traditional games and indoor games.
Explore the farm surroundings through long walks.
Attend farm workshops or demonstrations to learn new skills or techniques. Check out all the events lined up at Vaksana Farms at www.VaksanaFarms.in/events
Keep an open mind and be willing to learn from the farmers and their experiences. You will be fascinated by some of the stories.
Take part in farm-to-table experiences, such as cooking classes or preparing farm-fresh meals.
If you're interested in agriculture, ask the farmers about their farming methods and challenges.
Enjoy birdwatching. There are many varieties of birds at Vaksana Farms.
Do nothing and relax in the farm's natural surroundings, enjoying the peace and tranquillity.
Pack a reusable water bottle to stay hydrated during outdoor activities. Avoid bringing single-use plastic bottles.
Check if the farm has Wi-Fi or cellular service, as it may vary depending on the location. At Vaksana Farms, you have strong WiFi all the major telecom networks work well.
Check if the farm stay has a first aid kit with essential supplies for minor injuries or illnesses. Else, please bring your own. At Vaksana, we have first-aid kits.
Respect the farm animals' space and follow instructions on interacting with them safely.
Volunteer your time on the farm. The farm hosts will really appreciate your helping hand.
If you're interested in gardening, ask the farmers if you can help tend to the farm's plants.
Participate in farm-related festivities or events if they coincide with your visit.
Keep an eye out for farm stands or markets nearby where you can purchase fresh produce. When visiting Vaksana Farms on Sundays, don't miss the farmers':market at Kooteripattu Sandhai.
Support the farm by leaving positive reviews or recommending it to others. Trust me. This is something that will significantly motivate the Farmstay hosts.
Spend time observing the farm's wildlife and appreciate the beauty of nature.
If the farm has a nursery, help with seeding or transplanting the seedlings.
If the farm stay has a day package, you can pack a picnic lunch and enjoy it in a picturesque spot on the farm.
Learn about different farm animals and their roles on the farm.
Take part in farm traditions or rituals if they are offered.
If allowed, try your hand at milking cows or goats and learn about the process.
Learn about the different types of poultry on the farm. At Vaksana Farms, we will soon have chickens, ducks, swans, guinea fowls and turkeys.
Explore the farm's orchards and learn about different types of fruit trees. At Vaksana Farms, we have over 25 different varieties of fruits.
Take a tractor ride around the farm to enjoy the scenery.
Learn about beekeeping and the importance of pollinators for agriculture.
Participate in a cheese-making or butter-churning workshop if available.
Try your hand at making homemade preserves or pickles using farm-fresh produce.
Join a farm yoga or meditation session to relax and connect with nature.
Enjoy stargazing on clear nights away from city lights.
Learn about traditional farm games and try them out with friends or family. At Vaksana Farms, we have Bambaram, Thayapaas, Pallankuzhi, Undikol and Kittipullu.
Have a bonfire or campfire and enjoy storytelling.
Pluck vegetables with your own hands and offer to help the host in cooking lunch.
Collect eggs from the chicken coop and hand them over to the host to have a truly farm-fresh breakfast.
Rent a bicycle and explore the farm and its neighbouring areas at your own pace.
Learn about traditional farming techniques and how they have evolved over time.
Take a dip in a farm pond. This makes for a great swimming experience.
Join a farm-based fitness class or challenge for a unique workout experience.
Learn about herbal medicine and the use of medicinal plants found on the farm.
Enjoy a sunrise and sunset yoga session in a peaceful farm setting.
Learn about the different breeds of livestock on the farm and their specific characteristics.
Take part in a farm scavenger hunt to explore different areas of the property.
Learn about the process of making honey and taste different varieties produced on the farm.
Learn about composting and participate in the farm's composting activities.
Meet the host family and get to know them. This experience differentiates your stay at a farm stay from a resort. At Vaksana Farms, you will love meeting the 90-year-old Lakshmi Paati and her 72-year-old daughter, Kasthuri Amma, who run this farm stay.
We recommend staying for at least a couple of nights at a farm stay for you to experience a relaxed, calm holiday. This gives time for you to try out various activities at the farm.
Weekends are sought after, and the farmhouses tend to get booked early. So we advise you to book them a few weeks in advance. You can book easily at www.VaksanaFarms.in
Please come with a mentality and realisation that you are coming to a farm at a family's home. Please do not come with the mindset of staying at a resort. This way, you can thoroughly enjoy your time at the farm.
These 66-pointers should get you started on your farm vacation adventures!
We welcome you to Vaksana Farm. It is super easy to book your stay here. Visit
www.VaksanaFarms.in
. Just three simple steps which take less than 30 seconds.
We look forward to hosting you and giving you fantastic memories with your family to cherish for a lifetime.